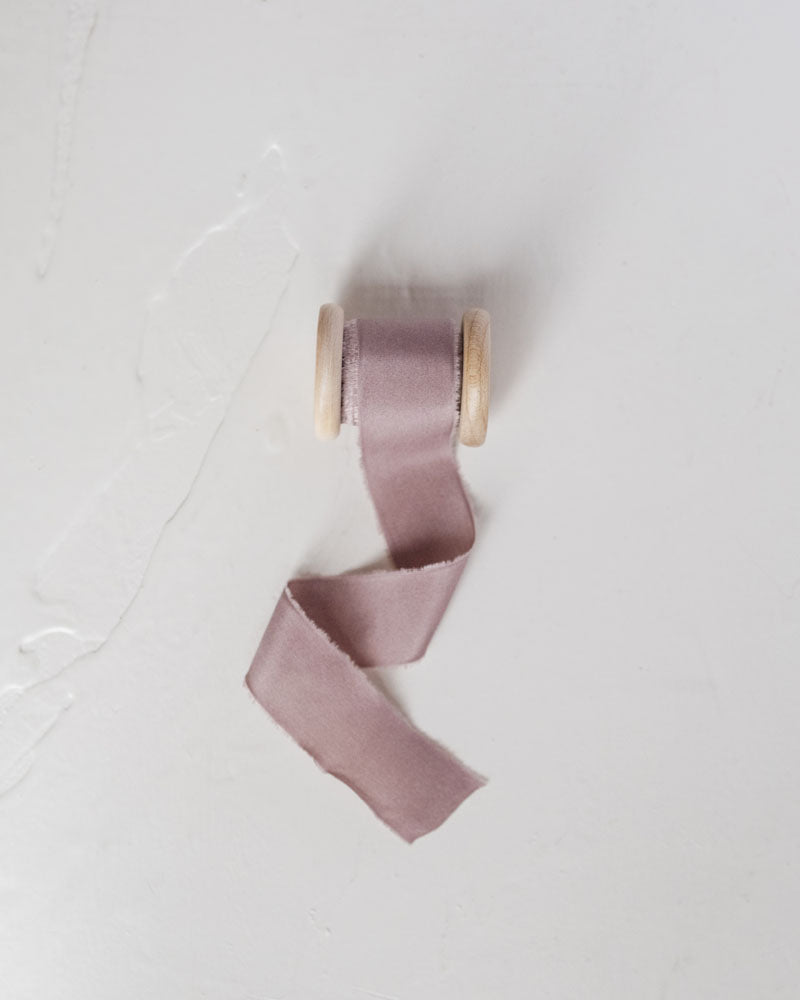 Soft, rosy essence of mauve is complemented by the earthy undertones of taupe, creating an elegant shade that is one of our sale favourites this year.

Regarding the sample sale stock, please note that minor dye differences may be noticeable in some items.
Please note: 
The sample spool contains 1 yard of ribbon. 

Ea

ch full sized spool contains a single 3 yard length of ribbon. 

The silk twine spool contains 4 lengths of 3 yards, for a total of 12 yards.
3 Yards is equal to 108 inches or 274.32 cm.  If you are unsure of how much to order for your stationery suite, please refer to our journal post, How much ribbon should I order? or send an email to hello@stellawolfe.com and we'd be happy to help.
Our ribbons are dyed in small batches from a unique blend of pigments to create subtle and complex shades. They're then hand torn, frayed and spooled for an organic, soft feel.

We endeavour to do our absolute best to display images that represent the colour as true as possible. However due to the variation between screens and devices, the ribbon colour may appear different on your screen vs in person. If you'd like to see a sample from the latest batch before purchase, we'd recommend picking up a sample spool or our swatch set before purchase.

Bulk orders (2+) of the same shade and size may be consolidated onto a smaller number of spools to reduce waste. If you need each 3 yard length to be on it's own spool, please indicate in the order notes section.
Guide to ordering for wedding stationery:
Each spool contains a 3-yard length of ribbon, which is equivalent to 108 inches or 274 cm. The Silk Twine spools contain a total of 12 yards, consisting of four three-yard strands of silk.
We recommend taking a piece of string and wrapping it around your invitation in the style you prefer, so you can accurately determine how much ribbon you'll need. Here's a basic guide to help you calculate the amount to order for your wedding stationery suite:
Step 1: Take your string and wrap it around your card. For example, a 5x7 card will require approximately 23 inches when finished with a small bow.
Step 2: Divide 108 (the length in inches on each spool) by 23 (the amount needed to wrap one invitation). The result is 4.69 (round down).
Step 3: Divide the total number of invitations you need to wrap (e.g., 100) by the number each spool can wrap (4). 100 divided by 4 equals 25.
To complete your project, you'll need to order 25 spools. If you have a fraction of a spool (e.g., 6.25), round up to ensure you have enough.
When ordering Silk Twine, you'll follow the same steps. However, when you determine the amount each 3-yard strand can wrap (4, as in the example above), multiply that number by 4. Therefore, one Silk Twine spool will be able to wrap 16 invitations. 100 divided by 16 equals 6.25 (round up).
To complete your project with Silk Twine, you'll need to order 7 spools.
Due to the handmade nature of our ribbons please allow for up to 10 business days for production. If you require the ribbons by a certain date, please indicate in the order notes. For rush orders please email hello@stellawolfe.com